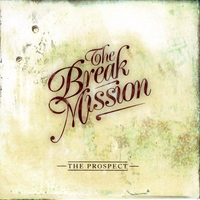 The Break Mission
The Prospect [EP]
Self-Released [2009]
Fire Drills Review:
This Brooklyn trio has just released a new EP that contains four tracks of sprawling piano driven mid-tempo numbers that make you sit up and listen to their smooth delivery. Somewhere the band falls in between a Coldplay and Death Cab while still making their own niche with honest songwriting and a desire to make quality music.
The Prospect EP
is an encouraging collection of tracks for a band that already has two indie full lengths in their resume and shared stages with Kristen Hersh, Apollo Sunshine and Squeeze, so it would not surprise me if we don't here more from this group in 2009!
Key Track:
"You're So Happy Now"
Band With Similar Fire:
Death Cab For Cutie

Official Break Mission Website
The Break Mission MySpace
-Reviewed by Aidan Rox