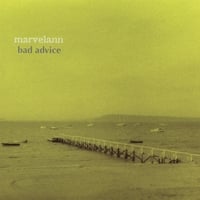 MarvelAnn
Bad Advice
Self-Released [2008]







Fire Drills Review:
Simon Honisett and Jonathan Jubera make up the Portland duo MarvelAnn, which have been around for about ten years. They don't have much output since
Bad Advice
is the groups sophomore outing but their soft style of indie pop grows with you on every repeat listen. The pair recruited a gob of other artists for a contribution to
Bad Advice,
which is why it is filled with lush and large arrangements that include pedal steel, accordion, vibes and strings. The extra instrumentation provides a sculpted soundscape that helps MarvelAnn achieve the surreal dream pop that makes for a pleasant listen and will turn you into a fan!
Key Track:
"How Long Can You Stay Angry"
Band With Similar Fire:
Mercury Rev
MarvelAnn MySpace
-Reviewed by Sam DaMatta