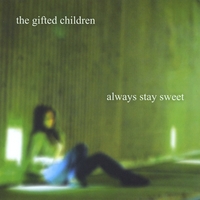 The Gifted Children
Always Stay Sweet
Tinhorn Planet Music [2008]
Fire Drills Review:
When
Always Stay Sweet
hits the streets next Tuesday it will be The Gifted Children's 10th release in 2008 alone (2 full-lengths, 6 EPs, 1 vinyl EP, and a movie soundtrack) making them one of the busiest unknown bands out there.
Always Stay Sweet
is a perfect title for this dose of The Gifted Children's knack for the short song and lots to say. It has simple harmonic moments that come as fast as they go, like in the 37 second "Ankle Socks" or the 1:10 rocking opener "The Straw Brigade". What The Gifted Children showcase on
Always Stay Sweet
is that no matter how many albums or songs you release, it doesn't matter if the tracks are 37 seconds or 3 minutes because it is always about the content and in this case - the content is good!
Key Track:
"Ankle Socks"
Band With Similar Fire:
Guided By Voices
The Gifted Children: Whitespace Differences [Fire Note Review 4/11/08]

Official Gifted Children Website
The Gifted Children MySpace
-Reviewed by Aidan Rox